about us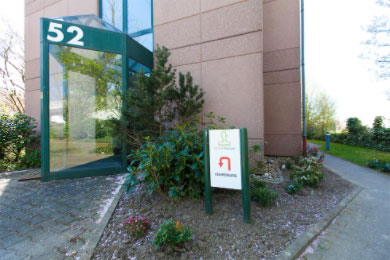 Welcome to stampfactory.co.uk
We at stampfactory.co.uk are one of the best known and leading stamp manufacturers in Germany. For over 25 years, we have been supplying customers in and outside Germany with high-quality stamp products. In 2002 we were one of the first to have an online shop with the possibility to design personalised stamps online. Since then, we have continuously developed our stamp generator, always keeping the user-friendliness for the customer in mind.
Competent contact partner based in Cologne
In Cologne-Hahnwald we have a 330 m² state-of-the-art production facility that offers us all the possibilities to produce your stamps and stamp plates quickly and professionally. The focus is always on quality and the customer. In addition, we try to produce in a resource-saving and environmentally friendly manner and are constantly adapting our processes to this end.
We have more than 1000 stamp products in our warehouse at any time. From stamp plates to replacement pads, from small wooden stamps to large self-inking tripod stamps, we have the right stamp for every occasion and every customer. Of course, we also stock stamps from the brand manufacturers Trodat and Colop.
To give your personal stamps a razor-sharp stamp imprint, we use highly modern and efficient laser systems from Trotec. With our 6 laser systems we have the possibility to engrave stamp plates with a resolution of up to 1200 dpi. We engrave up to 800 such stamp plates daily.
Service is very important to us
As it is our aim to offer you a service of the highest quality on a permanent basis, we are constantly developing. For us, it is not only the view of the stamp market that is important, but above all your feedback. We always listen to your concerns and try to fulfil all your wishes.
Our service also includes the promise that we will get your stamp on its way to you quickly. To ensure that your stamp reaches you within the shortest possible time, it is our concern to dispatch your order on the same day if possible. That's why we promise that all orders received by 1:00 p.m. on weekdays (Mon. - Fri.) will be handed over to our shipping service providers on the same day.
Do you have any questions?
If you would like advice or simply have questions about products or stampfactory.co.uk, please feel free to contact us. Our friendly staff will be happy to answer your questions. Send us an e-mail, we are here for you!